News • September 01, 2021
2021 Library Design Showcase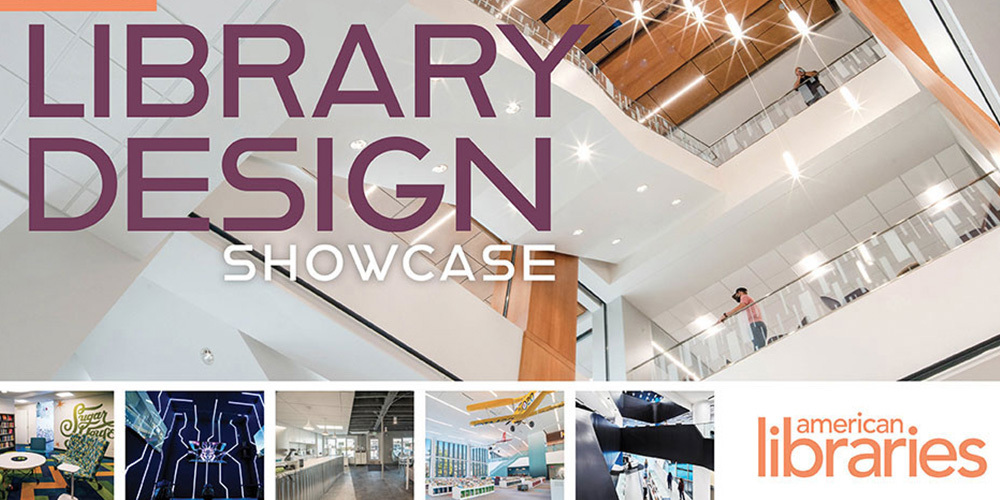 The year's most impressive new and renovated libraries.
Welcome to the 2021 Library Design Showcase, American Libraries' annual celebration of new and renovated libraries that address user needs in unique, interesting, and effective ways. That this year's slate features building projects completed during the pandemic makes them even more noteworthy. Despite libraries being temporarily closed or operating at reduced hours because of COVID-19 restrictions, beautiful new facilities and innovatively renovated spaces continued to open to the public over the past year and a half. As in recent years, renovations and expansions took center stage, highlighting the novel ways that communities are honoring existing structures while moving them into the future.
Higher Learning
D. H. Hill Jr. Library at North Carolina State University in Raleigh
Lord Aeck Sargent transformed D. H. Hill Jr. Library into an open, light-filled facility with an eye on the future. The removal of stacks on the second and third floors created new areas for study, academic support, and technology immersion. In addition to facilities for the Academic Success Center, the University Tutorial Center, and the Office of Undergraduate Research, the renovation also features spaces for a 360-degree visualization studio, a data experience lab for high-end computing, and an innovation studio to showcase emerging technology.
Project type: Renovation Architect: Lord Aeck Sargent Size: 400,000 square feet Cost: $11 million Photo: Tzu Chen Photography
Neilson Library at Smith College in Northampton, Massachusetts
Three architecture groups—including the studio of Maya Lin, who designed the Vietnam Veterans Memorial in Washington, D.C.—renovated and redesigned Smith College's library, transforming it into a contemporary center of learning and scholarship. Originally built in 1909, the library was expanded to include jewel-box pavilions with study spaces as well as areas for digital media and academic support services. The interior was gutted and refurbished with a new central core, complete with a skylight that illuminates the building.
Project type: Renovation and expansion Architects: Bialosky + Partners; Maya Lin Studio; Shepley Bulfinch Size: 154,000 square feet Cost: $120 million Photo: Nic Lehoux
For the kids
John and Claudia Belk Upper School Learning Center at Charlotte (N.C.) Country Day School
The Belk Learning Center was designed to provide an inviting new entrance to the Charlotte Country Day School campus and a serene complement to the school's midcentury modern aesthetic. The large facility features zones for collaborative and individual study, offices, classrooms, archives, a recording studio, and a café area.
Project type: New construction Architect: Centerbrook Architects and Planners Size: 14,000 square feet Cost: $11.5 million Photo: Cameron Triggs
Past meets present
Baldwin Public Library in Birmingham, Michigan
Baldwin Public Library was built in stages: The main building was constructed in 1927; a youth room followed in 1960; and an adult services wing was added in 1981. Its recent renovation and expansion streamlined those different phases, updating the youth room with a larger play area and program room, designating 2,000 square feet of new space for offices and a coat and stroller room, and adding an outdoor garden and terrace. Exposed brick from the original building is visible in the expansion, creating a seamless flow between the different generations of building growth.
Project type: Renovation and expansion Architect: Luckenbach Ziegelman Gardner Architects Size: 45,000 square feet Cost: $2.7 million Photo: Laszlo Regos
Rebirth after disaster
Cincinnati and Hamilton County (Ohio) Public Library, Price Hill branch
After a partial, after-hours ceiling collapse in 2018 led to the closure of this 1909 Carnegie building, Cincinnati and Hamilton County Public Library decided to renovate and expand the facility. The basement was converted into the main floor, allowing the new upper level to house meeting room spaces. Original elements were restored throughout, including the skylight and tiled foyer, and nods to the building's past were added, including interior octagonal tiles and matching brick masonry. The new building is now ADA-compliant, and Spanish-language signage was added to welcome the area's growing Spanish-speaking community.
Project type: Renovation and expansion Architects: Fishbeck; Interior Project Management Size: 14,000 square feet Cost: $7.3 million Photo: Helen McCormick Photography
Salt Lake City Public Library, Sprague branch
After a devastating flood in 2017 damaged Salt Lake City Public Library's Sprague branch and destroyed massive amounts of library material, the space was reborn in 2021 with a new interior optimized for community needs. Originally constructed in 1928, the English Tudor-style building in the Sugar House neighborhood was updated with bright lighting, a business hub, study rooms, new tile flooring, a refurbished main staircase, and new exterior brickwork.
Project type: Renovation Architects: Arch Nexus; Margaret Sullivan Studio Size: 13,000 square feet Cost: $4.5 million Photo: Salt Lake City Public Library
Small space for big dreams
Meridian (Idaho) Library District, unBound branch
MSR Design renovated a two-story building in downtown Meridian, situated among multiple mixed-use developments, to create a library branch focused on resources for small businesses and technology. Entrepreneurs at all levels can find business-focused books and programs, collaborative meeting spaces, makerspaces, 3D printers, laser engravers, a laminating machine, a digital design lab, and a recording studio.
Project type: Adaptive reuse Architect: MSR Design Size: 3,800 square feet Cost: $1.4 million Photo: Meridian Library District
Visual wonders
Homestead (Fla.) Cybrarium
The Cybrarium's striking external façade sets the stage for experiences available to visitors inside the building. Designed to break the mold of traditional learning, the Cybrarium offers a virtual reality space, a makerspace, sewing machines, and 3D printing services. A theater in the children's section provides an area for storytimes and community events. A steampunk-themed lounge anchored by an 1896 Chandler and Price letterpress nods to forward-thinking innovation from the past.
Project type: New construction Architect: DLR Group Size: 23,263 square feet Cost: $10.4 million Photo: Osiris Ramirez
East Baton Rouge (La.) Parish Library, River Center branch
The new River Center branch celebrates East Baton Rouge's proximity to the Mississippi River. A cantilevered design provides a vista of the river, and a public roof terrace offers panoramic views of the water and surrounding city. A wall-to-wall US Army Corps of Engineers map of the river in the foyer greets visitors as they enter the building, further instilling a sense of geographical pride. The stacked arrangement of floors serves a dual purpose, creating spaces for children, teens, and adults inside the building as well as a shaded public plaza at street level.
Project type: New construction Architects: WHLC Architecture; Schwartz/Silver Architects Size: 49,000 square feet Cost: $21.4 million Photo: Tim Mueller Photography
Fayetteville (Ark.) Public Library
The renovation of Fayetteville Public Library has produced new spaces for the community to create, learn, and connect. Large windows in the elongated horizontal expansion provide ample natural light for the stacks and reading and congregating areas. Additional spaces for learning and other experiences include a 700-seat event center with a stage and retractable seating, a teaching kitchen and café, an art and movement room, and an innovation center with audio and visual production studios, a simulation lab, a fabrication and robotics studio, photography and virtual reality studios, a podcast booth, and collaboration space.
Project type: Renovation and expansion Architect: MSR Design Size: 168,000 square feet Cost: $49 million Photo: Crossland Construction
Stanley A. Milner Library, Edmonton (Alberta) Public Library
The renovated Milner Library, with its sleek, right-triangle shape and expansive windows, is a striking new element in downtown Edmonton. The interior is equally impressive, with features that highlight technology and new learning, including a two-story, double-sided, 40-foot-wide interactive multimedia digital installation created with Queensland University of Technology in Australia and a 1,000-square-foot gamer space with PC, console, group, and retro options. More than 7,000 square feet of space is dedicated to hands-on activities, including a makerspace for kids, sound recording studios, a media production lab, and a fabrication lab with a drill press, scroll saw, and resin 3D printer.
Project type: Renovation and expansion Architect: Teeple Architects Size: 227,732 square feet Cost: $85 million Canadian Photo: Andrew Latreille
Related Links: Read the story on americanlibrariesmagazine.org