News • April 14, 2022
Art Out of Books: Installation at Farmers Branch Manske Library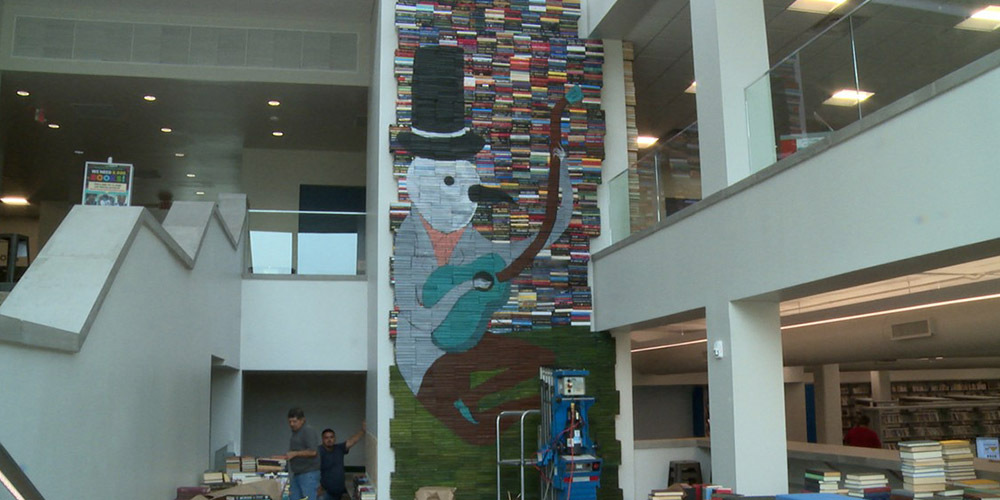 Farmers Branch is reinventing what the local library means to its community.
Something big is happening at the Manske Library in Farmers Branch … something really big.
"We had these blank walls and we needed something to bring that wow factor," said Farmers Branch city councilwoman Traci Williams.
Williams said what better way to get a "wow" than to put books on the walls.
Seven thousand old and used books have been secured to the wall surrounding the library's elevator. The books are being painted by California artist Mike Stilkey.
Stilkey has painted similar murals all over the world, but this is his first in a Texas public library. He said it will take about 10 days to finish painting the books before the library unveils the finished project April 21.
More than 20 feet tall, the mural is huge, but it's just one small way Farmers Branch is reinventing the library.
"We're honoring what came before and at the same time, we're progressing forward," Williams said.
Progress means coming up with some novel ideas, like 3D printers for people who like to create.
Later this week, the library will install a beehive and soon, it will even have a pickle ball court.
Why?
"So that this becomes the city hub for all of our progress toward growth," Williams said.
Councilwoman Williams expects people to flock to the library like they haven't in years, because, after decades of being all about books, Manske Library has a new story to tell.