News • July 14, 2018
Belton library needs marketing, strategic plan, consultant says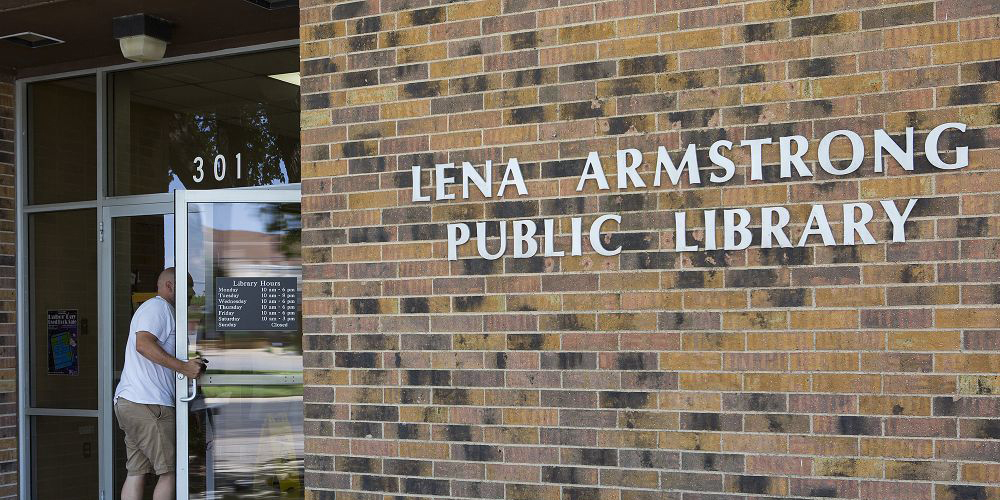 BELTON — Don't judge a book by its cover. That old adage applies to many things — including the Lena Armstrong Library.
This week, the Belton City Council learned that libraries are not just about books anymore.
"It's really a place where you want to go, want to stay, where you can meet your neighbors and stay and engage in a program," said Debbie Joy, library marketing director for Library Systems and Services.
Libraries level the education playing field for residents, Joy explained.
"When family and kids can come to the library and access enrichment activities, it raises the whole community," she said.
Joy presented her company's assessment of the Lena Armstrong Library to the City Council. The assessment's goal is to find a way to modernize Belton's Lena Armstrong Library.
"What sticks out — and what we're struck by — is how fortunate this community is to be fast growing, to be still a community," Joy said. "Austin is a really cool and great place that is growing really fast. It seems like Belton has some of the cool part of Austin and yet is still so warm and accessible. You're very fortunate."
Library's weak spots
Although the library has great children's programs and a growing circulation of books among children, Joy highlighted some of the Lena Armstrong Library's not-so-bright spots that need to be addressed.
As Belton has grown, the library has not. The Lena Armstrong Library was built in 1975. It is 5,600 square feet. Belton, at the time, had a population of about 10,000.
In 2018, the city has 21,214 people. Other than interior renovations, the library has not changed.
The library needs better hours so working families can visit at a more convenient time, she told the City Council.
Even the shelving in the library needs to see change. It is tall, creating accessibility issues for older residents and removes other opportunities.
Increase the library's profile
Library Systems and Services met with stakeholders in April. They met with Belton New Tech High School @ Waskow students and some of them told Joy they did not know the city had a library.
Belton needs to focus on two areas for the Lena Armstrong Library: outreach and marketing.
"Outreach. Outreach. Outreach. Outreach," Joy said, pumping her fists in the air. "As you can tell, I'm a fan of outreach. You want to be out in the community."
The library also needs to develop a marketing plan. With more outreach and marketing, the library's profile should rise and demand should increase, Joy said.
"We really have some opportunities to not just know where the library is, but what it does," Joy said. "What does a modern library do? They're doing lots of cool programs. So let's raise the profile and let people know and that will help drive them in."
Councilman David K. Leigh said the library could host a movie-at-the-library event where the city plays a book-themed movie on the side of the building.
"Something like that would definitely allow people to know there is a library," he said.
Short-term recommendations
Joy laid out some recommendations to improve Belton's library. The city needs to conduct a survey and create a strategic plan for the library.
"I think the survey is pretty crucial," Councilman Guy O'Banion said. "It's just like the parks. We needed a survey that determines what we were going to do with that. I think you do the survey before you do anything."
Joy suggested the city of Belton should consider refreshing the library exterior. For some people, she said, it's not so obvious that the building at 301 E. First Ave. is a library.
As for the interior, Joy showed the City Council two ways to reconfigure the library's layout to maximize program space.
"I think the challenge, though, is reconfiguring and modifying the existing structure is the amount of books we have," Leigh said. "We lose real estate for books. It may look better, but we have ¼ of the selection."
That is a concern Joy sees at libraries across the country. One way to alleviate that concern, she said, is for the city to conduct an analysis of the library's book collection to determine what is circulating and what is not. The collection analysis would determine if the current books are meeting residents' needs and wants.
"It might be worth figuring out," Joy said.
Long-term solutions
Over the next one to two years, Belton needs to improve partnerships with the community. An improved relationship with the Belton Independent School District is the most important, Joy said.
"Students are important patrons. Families are important patrons. School relationships can be hard," she said.
Over the next five years, Joy explained, Belton should capitalize on better outreach and marketing to gain support for a new library.
Library Systems and Services found that a new or renovated library of about 18,700 square feet would serve Belton as it is in 2018.
But a new library of 26,000 square feet would be the best way for Belton to effectively serve its growing community for the next two decades.
"We just don't want to do it to inherently be cool or neat or of the moment," Joy said. "We want to do it because it's the best way to serve our community. It's the best way to serve our patrons. Libraries are changing, and we want to change right with them and grow."
Leigh said a larger library may be a challenge.
"It's going to be hard for any city — especially a city like Belton — to fund a 20,000- to 40,000-square-foot facility for books," he said.
Joy said the councilman highlighted an important fact. But a library's role is not strictly for books anymore, she said.
"The building, the library is not just books," Joy said. "It's education. It's about enrichment. It's about people."