News • March 26, 2021
Cybrarium Doors are Open to Fun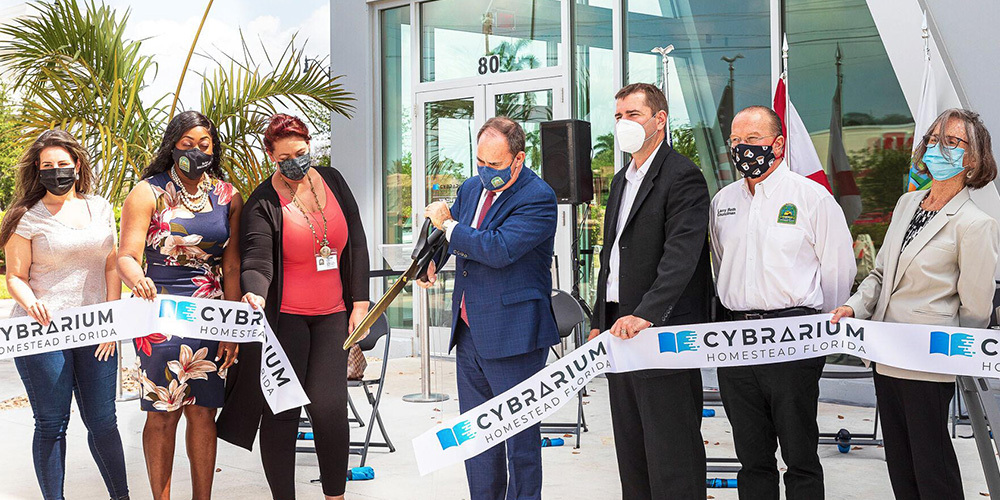 You may have been one of the attendees at the ribbon cutting for the Homestead Cybrarium held Thursday, March 18, 2021, or one of the first visitors to enter the almost 24,000 square foot facility.
The doors are officially open to this latest part of an overall vision to revitalize downtown Homestead.
Although the capacity is currently reduced to allow for social distancing until COVID-19 restrictions are lifted, the interior layout enables easy movement.
Homestead Mayor Steve Losner synopsized the multi-generational appeal. "This is the perfect fusion between old-school books that those of us of a certain age still like to look at, touch, pick up, and read. Sometimes it's just not enough to look at electronic screens. For those coming after us, here they can look to the past and enjoy all the best that ink and paper have to offer as well as whatever the latest screen has to offer. Disney doesn't have anything on us when it comes to our virtual reality cubes."
Both floors do indeed carry out the theme of "high tech meets tradition". Books for all ages are available and in the Early Learning section, they come in English, Spanish, and Creole. The adjoining Children's Theater is set up for a variety of programs and the stage is topped with a digital display. It will show messages and provide special effects such as rainfall if that's part of a story. And yes, it will serve adults as well.
In speaking of Virtual Reality (VR) capability, some stations are inside the "VR Cube" and others are on the exterior. All have screens and headsets to enjoy a variety of selections to be checked out. The staff will set up the selection and individuals like Morgan Baxter, an Information Technology Technician, were hard at work to ensure everything functioned as intended. The City has engaged Library Systems Services in California to operate the Cybrarium as they are doing with numerous libraires in multiple states.
Moving further into the first floor is the area for Book Mountain, an interactive sculptural feature that, "is beautifully interpreted by a young astronaut exploring the ceiling-high solar system atop the tower of books." This is anticipated being available later in the summer.
There's plenty going on in the Steampunk sections though with books, art, displays, and the Makerspace which has 3-D printers. Budding engineers through seasoned experts will find something exciting.
For those who may not be familiar with this genre, "Steampunk is an inspired movement of creativity and imagination. With a backdrop of either Victorian England or America's Wild West at hand, modern technologies are re-imagined and realized as elaborate works of art, fashion, and mechanics. If Jules Verne or H.G. Wells were writing their science fiction today, it would be considered "steampunk." (http://www.ministryofpeculiaroccurrences.com/what-is-steampunk)
Carlee Vazquez, who was sitting in the Steam Punk room as her son read, said this about the Cybrarium, "This is such a great addition to Homestead and such a great place to bring the little one."
Among more than 30,000 physical items of books, audiobooks, and DVDs, there are desktop computers and laptops to check out and the study/work tables are wired to plug in personal electronic devices. Rino Landa, the Library Director, and staff were prepared for a busy day. "We've already had over 200 patrons come through the doors 45 minutes after we opened," he said.
An important point is the need for a separate card that can be initiated on-line or in person at the Cybrarium. As was explained in a Press Release from the City of Homestead, "Residents of Miami Dade County are encouraged to visit www.cybrarium.org now to apply for their free Cybrarium Card, reserve items for opening day, and begin accessing the digital collection and other online resources. With the opening of the Cybrarium, the existing Homestead Branch Library at 700 N. Homestead Blvd. will close to the public at close of business on Saturday, March 20, 2021.
The City of Homestead and the Miami-Dade Public Library System (MDPLS) will continue their long-standing partnership in delivering public library services throughout Miami-Dade County.
Homestead residents will be able to continue accessing services and materials at other MDPLS branches free of charge and Miami-Dade County residents, by applying for a Cybrarium card, will also have access to the Cybrarium thanks to a reciprocity agreement between MDPLS and the City."
A notice from MDPLS adds, "Please note that any requested items that were on hold at the Homestead Branch Library will be transferred to the Naranja Branch Library. You may also continue to return items in the book drop outside the Homestead Branch Library through April 30."
The Cybrarium is located at 80 West Mowry Drive, Homestead next to the Homestead Station parking garage. The main entrance to the building is on Mowry Drive rather than directly accessed from the garage. The garage does not yet charge for parking and when fees are later started, the Cybrarium will validate parking for up to four hours.
Current hours of operation are seven days a week: Mon, Thurs-Sat: 9:30 a.m.-6:00 p.m.; Tues-Wed: 11:30 a.m.-8:00 p.m.; and Sunday 1:00-5:00 p.m. There are no fees for materials except for services such as making copies.
www.cybrarium.org
(305) 224-4410.
Related Links: Read the story on southdadenewsleader.com