News • March 12, 2021
Cybrarium Opening March 18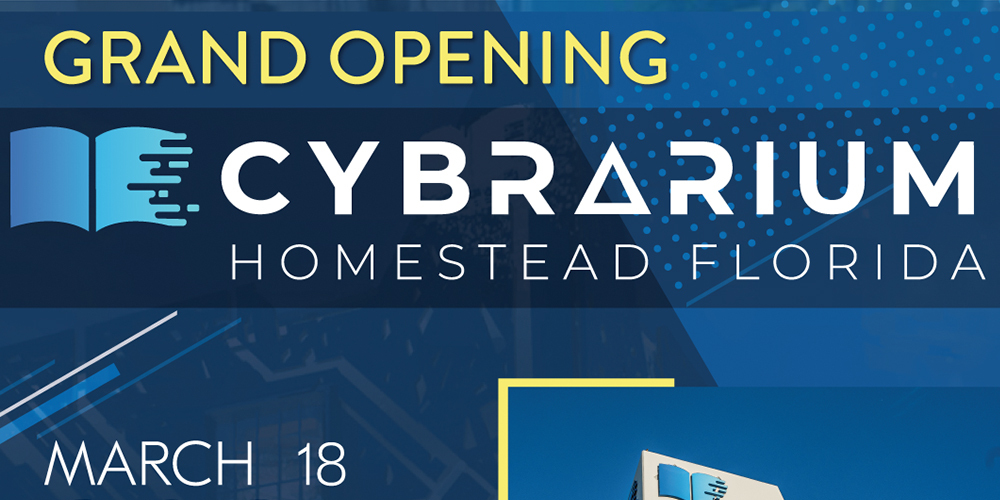 Virtual reality, 3D printing, children's theater, and a brand new collection of library books – these are just some of the exciting offerings at the world's first Cybrarium opening in Homestead on Thursday, March 18, 2021.
The Cybrarium, located at 80 West Mowry Drive, Homestead, is the City of Homestead's much-anticipated high-tech library that marries traditional library services with advanced technology and innovative programming.
A Ribbon Cutting Ceremony for the Cybrarium will take place on Thursday, March 18, at 12 pm via Facebook Live at www.facebook.com/cityofhomestead.
It will culminate with the reading of a first-edition children's book inspired by the Cybrarium.
The Cybrarium doors will officially open to the public at 2:00 pm, when the public can come to enjoy all its features. Please note, due to COVID-19, masks and social distancing will be enforced, as well as strict interior capacity limits once the Cybrarium doors open.
Residents of Miami Dade County are encouraged to visit www.cybrarium.org now to apply for their free Cybrarium Card, reserve items for opening day, and begin accessing the digital collection and other online resources. With the opening of the Cybrarium, the existing Homestead Branch Library at 700 N. Homestead Blvd. will close to the public at close of business on Saturday, March 20, 2021.
The City of Homestead and the Miami-Dade Public Library System (MDPLS) will continue their long-standing partnership in delivering public library services. Homestead residents will be able to continue accessing services and materials at other MDPLS branches free of charge and Miami-Dade County residents, by applying for a Cybrarium card, will also have access to the Cybrarium thanks to a reciprocity agreement between MDPLS and the City.
The Cybrarium is part of an overall vision to revitalize Downtown Homestead.
Related Links: Read the story on southdadenewsleader.com