News • October 21, 2019
Entertainment megaplex to open in Homestead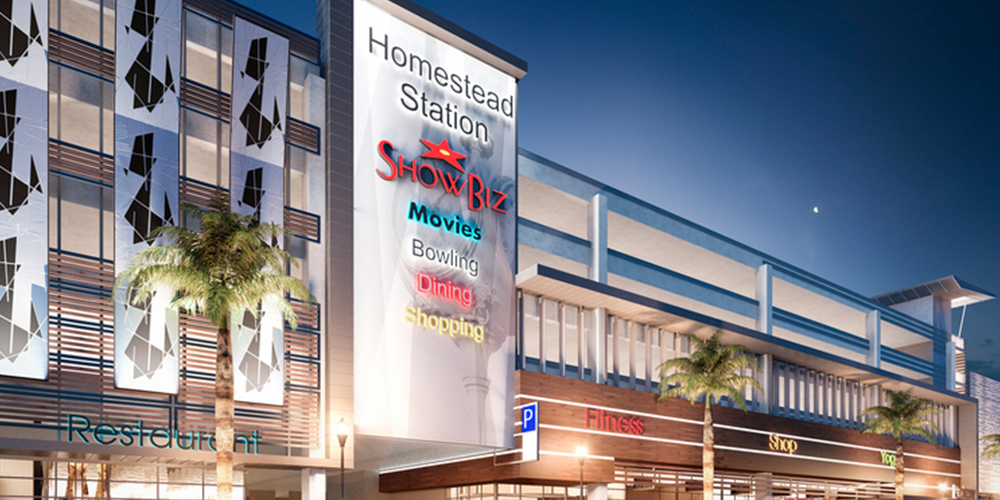 HOMESTEAD — About a year and a half after construction began, Homestead Station, a 65,000-square-foot complex with a movie theater, bowling alley and transit center, will celebrate its grand opening this weekend.
The massive facility is located along Krome Avenue in downtown Homestead.
The grand opening celebration, set for 4 to 8 p.m. Saturday, Oct. 26, will feature food trucks and a beer garden while entertainment headliner DJ Irie spins music in Losner Park.
Just before 6 p.m., the "March of the Movie Characters" parade along Krome will feature Homestead community groups in costumes and performances tied to their favorite movie themes.
The parade will culminate in front of Homestead Station, 4 S. Krome Ave. Tours of ShowBiz Cinemas Bowling, Movies and More! will be offered.
The cinema and bowling center is scheduled to open for regular business Friday, Nov. 1, as Homestead's newest entertainment destination. It features 10 movie theaters, including a Superior Digital Experience 70-foot ceiling-to-floor, wall-to-wall theater, as well as 14 lanes of bowling and an arcade gaming floor.
Inside the cinema and bowling alley lobby will be a cafe, a full bar, arcade and prize redemption room.
"ShowBiz Cinemas is incredibly excited to bring our unparalleled Bowling, Movies and More! entertainment experience to Homestead," said Kevin Mitchell, ShowBiz Cinemas CEO. "Our mission is to provide a first-class entertainment experience for every customer who enters our locations. … This will be unlike anything the residents of Homestead or even South Florida have ever seen."
The complex will also include a transit center for a trolley line and park-and-ride bus commuters as well as 1,000 parking spaces and retail shops.
The completion of this project marks Homestead's first major public-private retail partnership aimed at revitalization of the South Dade city.
Next, the city of Homestead plans to expand Losner Park and add a digital public library, or Cybrary, according to Zackery Good, the city's public information officer.
Hurricane Andrew in 1992 destroyed thousands of homes and trailers in the Homestead/Florida City area and left lingering blight. Projects that were initiated after the hurricane to spur downtown Homstead's renaissance languished during the Great Recession in 2008, according to Homestead Mayor Stephen Shelley.
Other recent revitalization projects include the restored Seminole Theatre, a new city hall and new police headquarters.
The Homestead Station grand opening will end with a fireworks display at 7:30 p.m. Visit cityofhomestead.com/homesteadstation for more information.
Related Links: Read the story on keysnews.com