News • June 19, 2018
Libraries rock summer with plenty for kids (Featuring LSS-operated Sumter County Library System)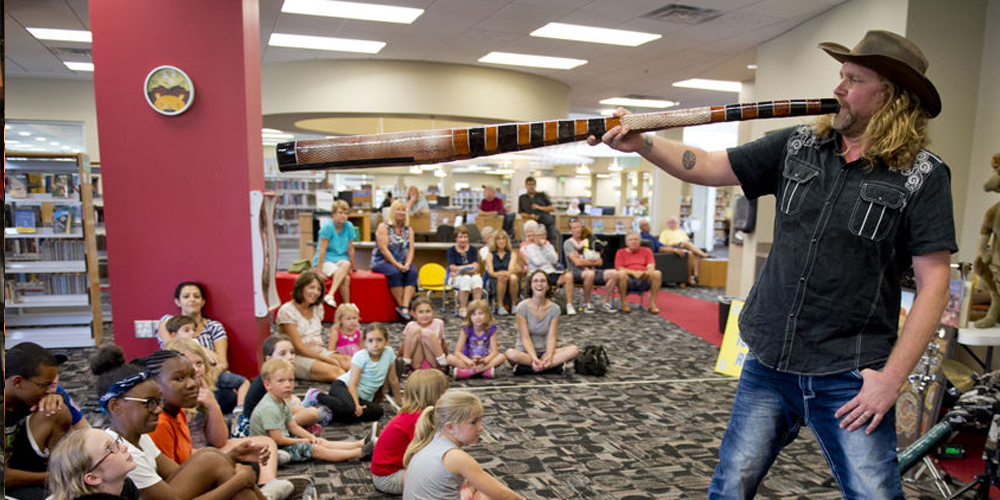 Grandmothers, toddlers and all ages in between were delighted by Lindsey Dank's didgeridoo performance Thursday at The Villages Public Library at Pinellas Plaza.
Toes were tapping, hands were clapping and children were dancing to the sounds of this long, tubular musical instrument originally used by the Australian Aboriginal people.
Dank, a performer with Didgeridoo Down Under, shares his message of diversity, kindness and respect with children through music and interactive fun.
Dank's performance was just one of the many events area libraries are hosting this summer for children and adults. All the local public libraries are participating in this year's summer reading program with the statewide theme, "Libraries Rock!"
"I love the variety of programs available for my children this summer," said Nevine Chancellor, of Oxford. "We are here all the time ­— either here or at the Belvedere library."
In addition to The Villages and Sumter County, libraries in Lake County also have plans to rock children's summers.
Each library has its own program with incentives to encourage children to continue reading between school years.
THE VILLAGES AND SUMTER COUNTY
The Sumter County Library System has planned a variety of programs this summer for children at libraries in The Villages, Lake Panasoffkee, Bushnell and Webster.
Children can attend a variety of free events during the next several weeks. Programs offered include building a hologram projector, a magic show with Cesar Domico, an hour of JiggleMan's zany comedy and learning to make a square bubble.
Programs will include music, geology and other STEM (Science, Technology, Engineering and Math) themes, said Mary GaNun, programming and outreach coordinator for the Sumter County Library System.
Programs began June 5 and will continue through July 24. Several of the activities require pre-registration online or at the libraries.
Chancellor said she home-schools her children, ages 9, 6 and 3, and visits the libraries regularly as part of their curriculum.
"There is always something going on," Chancellor said. "So far this summer, we have watched Jiggleman and the Fritzy Brothers One-Man Circus, and we'll keep coming back."
Another fun summer activity is the reading program for children and adults.
For each book a child reads, he or she will receive a backpack charm.
They also can play bingo and fill their cards by reading different genres of books and learning to use the kid-friendly library programs. For each filled bingo card, they receive a ticket for a drawing for a gift basket at the end of the reading program.
The adult game has the same concept but different layers of participation.
For each completed game, each child or adult participant will receive a ticket for a chance drawing for an age-appropriate basket donated by The Friends of The Villages Library.
"The Friends sponsored the reading program for adults and children, the gift baskets and the performers at Pinellas and Belvedere libraries," GaNun said.
LADY LAKE
All 15 public libraries with the Lake County Library System are participating in this year's summer reading program, including those closest to The Villages in Lady Lake and Fruitland Park.
The Lady Lake Library started its summer programs earlier this month, and it already is experiencing large crowds of local children and families eager to have fun and learn this summer.
Throughout the summer, children can pick up a reading log and participate in the six-week reading program, where they read one book per week, log it and receive a reward every Thursday.
The library will host an end-of-summer party July 26.
"Reading should be fun, and we try to keep children excited about it," said Nicole LeFrancois, youth services coordinator.
Christy Leonard, of Lady Lake, has brought her two home-schooled daughters to the library for the past three years, and she appreciates the summer reading programs available to them.
"It's giving them a love for the library," she said. "It's a good building block for them."
In addition to the reading program, the library also hosts various programs throughout the week.
Children ages 7-12 can participate in hands-on activities at 10:30 a.m. for Makerspace Mondays, while preschoolers can explore sensory stations with Little Explorers from 10 a.m. to noon every Tuesday.
Story Time takes place at 10:30 a.m. every Wednesday for preschoolers, and a special guest will make an appearance each week during the summer.
Guests include local business owners, as well as the town's fire and police departments.
On June 13, for example, the library hosted its second annual Truck Rodeo and welcomed the town's public works department to show its trucks to local children.
Library staff also read a truck-related story to the children.
Romayne Jones, of Lady Lake, held her 2-year-old grandson, Tyler Thompson, as he pointed to the trucks while wearing his own plastic hard hat.
Jones brought Tyler to the library for the first truck rodeo last year, and she said it is important for the library to continue to host fun programs for the children.
"There aren't a lot of kid activities in this area. It's great how many organized activities the library has for children," she said.
Throughout the summer, the library also will host events with performers to keep the children entertained.
They can wind down at the end of the week with Family Movie Fridays, where a free movie is played at 2:30 p.m.
"There's something for everybody, every day," LeFrancois said. "We want to make sure the library stays a part of everyone's life."
For information about summer programs in Lady Lake, call the library at 352-753-2957.
FRUITLAND PARK
The Fruitland Park Library has a jam-packed summer of programs for local children to enjoy.
The library offers Story Time at 10:30 a.m. Wednesdays, free movies at 1 p.m. Fridays and various programs throughout the summer.
A Mario Kart Tournament for ages 5 and older will take place at 11 a.m. Friday, and a craft to make duct tape zipper pouches will take place for ages 7-12 at 3:30 p.m. June 27. Both events require registration.
During July, children can participate in other crafts, including guitar-decorating and string-art programs.
The library also is in full swing with its summer reading program.
"Summer reading programs vary from library to library, but our one main goal is to keep the kids reading during the summer," said Jo-Ann Glendinning, the library director.
Children ages 5-12 and teens ages 13-18 have until June 29 to sign up for the summer reading program, where they have to read a minimum of 10 books and turn in their reading logs by July 23.
If they meet their goal, they will get invited to a pizza party at 11:30 a.m. July 27 and receive prizes.
Adults 19 and older have until Aug. 17 to read a minimum of 10 books and turn in their reading logs. Prizes will be awarded Aug. 20.
"Everyone works so hard during the school year, so this is a way for them to have a little fun and not worry about school or work," Glendinning said. "If we can keep children reading by making it fun for them, then we've accomplished our goal."
For information about summer programs in Fruitland Park, call the library at 352-360-6561. For information about summer programs in Lake County, visit mylakelibrary.org.
Related Links: Read the story on The Villages Daily Sun