News • March 05, 2021
Residents Share Thoughts on Library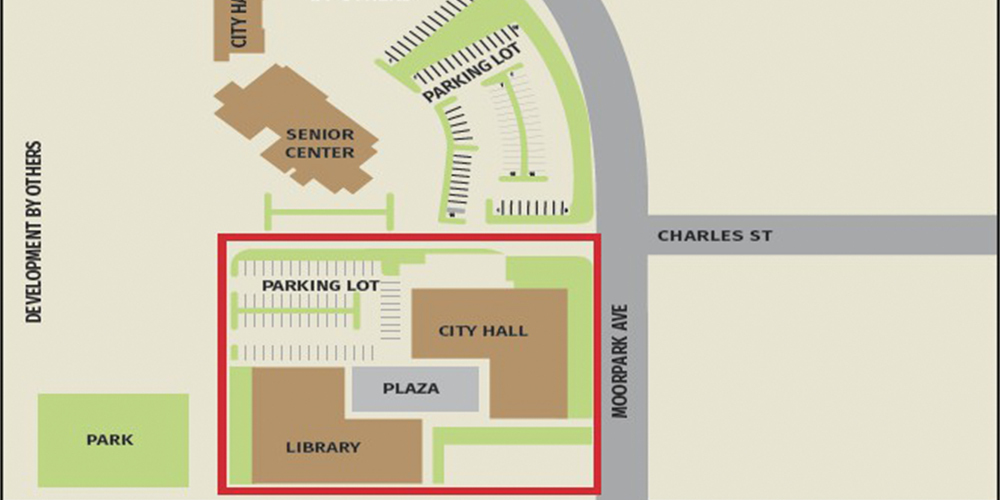 "It is so exciting as a resident and as a mother of young child to see the future of the library come to life," Moorpark resident Christine White said.
In the works for decades, the Moorpark City Library is slated to sit on the north side of High Street across from the post office.
The 18,000-square-foot building is also expected to have teen and children's areas, small group study rooms, a large community room, a store and patio seating.
"People asked for lots of different size meeting rooms and we were able to accommodate that for meetings, for book clubs, for small business groups," library consultant Linda Demmers said. "The library is about three times the size of your current library."
Much like the High Street Depot— a multi-use project approved by the council in October— the library's architecture will echo buildings that already exist on High Street while also creating new elements that create a modern feel for the building.
"We want to bring in a lot of our historic cues and celebrate the past, but we also want to pull it into the future," said Stephen Finney, president of CWA AIA, the architect for the project.
Inside the space, library consultants and city staff hope to create a comfortable community space that provides lots of natural light and accessible shelving.
Judy Van Wyk, a principal with the Design Studio, the city's library designer, said there will be a variety of seating options for patrons like lounge chairs, group tables, laptop workstations, movable ottomans and bar stools.
"Our plan is to incorporate all these elements throughout the library so it appeals to a broad audience," she said.
The library's teen area is expected to be a more casual environment with room for group seating, a laptop check-out area and a maker space.
Moorpark is exploring two design concepts for the children's area that can be woven throughout the overall library's layout. The options include a nature theme that highlights the city's wildlife, plants and open spaces, or a country village that plays off of Moorpark's agricultural roots.
During the meeting, community members were evenly split between the two options with 53% preferring the country village concept and 47% opting for the nature theme.
"I'm really excited about the direction it's taking," Moorpark resident Rosalie Barili said.
Related Links: Read the story on mpacorn.com