News • February 12, 2019
Technology Unexpectedly Bringing Generations Together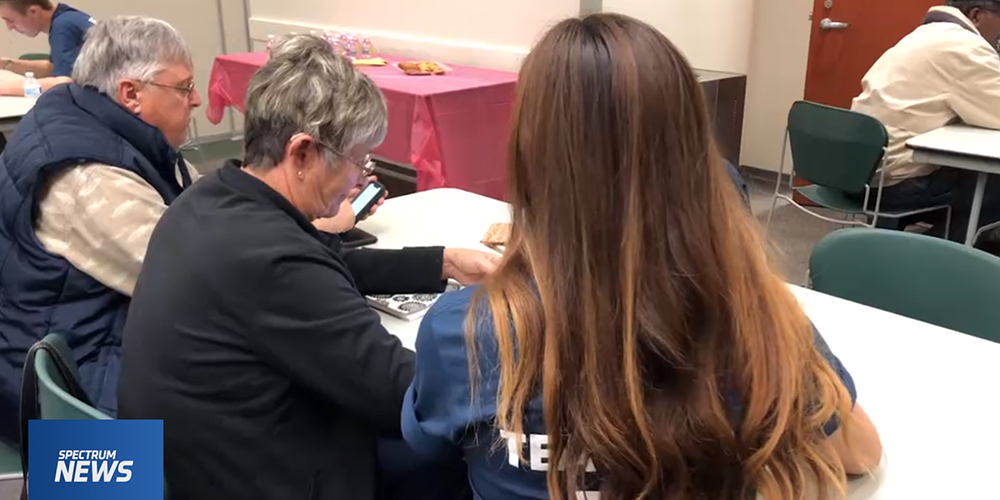 Teenage volunteers are helping the elderly community enter the digital age by providing them with lessons on technology and social media.
Technology bringing younger and older generations together
Teens teaching elderly about social media
Volunteers said it's a way to give back to those who teach them
Looking around at a packed house at the Temecula Library, you might be expecting someone to shout "Bingo!"
"I don't know how to do that either," says student Shelia Dunn.
The crowd is mostly made up of veterans, but the mix of rookies sends a different message. There are no board games here. In fact, teen volunteers are teaching their senior friends about tech: how to text, download, view and of course like things on social media.
Maddie LaScola started once-a-month meetings last year as part of the Leo Club she created. Teens from different high schools in the Temecula-area are volunteering their time to make a positive impact in the community.
"We've bonded so much by showing them it's not that hard. You can do it. It's totally possible. It's kind of been like this passing of the torch," says LaScola.
David Gibbs is Maddie's former Sunday school teacher. For years he taught her – today she's teaching him.
"She's grown up to be a very fine person, and she's a good teacher," says Gibbs.
There is help available on every device you can think of. Still, taking notes the old-fashioned way has its place. However, for all of the data stored in these devices, there are many more years of real life experience contained behind the eyes of these "students."
Often when the day's lesson is over and the conversation turns from text to face-to-face, that is when the real learning begins.
"People that comes here they always have something wise to say to us," says volunteer tutor Paris.
It might be hard to believe that technology, which seems to separate generations, also has the ability get millennials and baby boomers in the same room.
"This is bringing generations together and proving that even though we may be older, the younger can still teach the older," says Gibbs.
What separates us is often just understanding. Whether it is an iPhone or telegram, technology can take us worlds apart.
"They've been teaching us their whole lives, and now we're kind of able to give them a little something back," Maddie says.
Related Links: Read the story on spectrumnews1.com